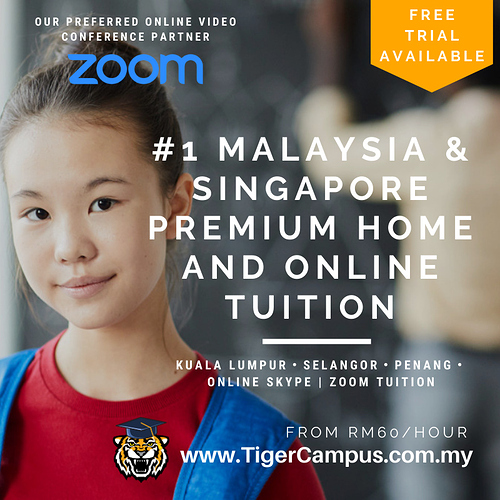 Available In Kuala Lumpur・Selangor・Penang・Online Zoom Tuition (NationWide)
Find a premium online & home tutor in Malaysia for any subjects at the comfort of your home. Get a free trial today at TigerCampus Malaysia. Programming lessons are also available.
Assessed & Identity Validated Tutors
Proper identity verification and subject assessment process is also being carried out for your trust and safety.
Dedicated Help Desk
We are here to schedule your classes or even arranging for a replacement if an emergency happens.
Try For Free
Take a free trial with one of our tutor to determine the suitability for your own academic expectation.
No Hidden Fees
Pay only for lessons conducted.
No Obligations, No Contracts
Contact us today and get a free trial with our customer service representative.
Call or Whatsapp us at +603-4065-7086
Our website: https://www.tigercampus.com.my